To find other terms related to your topic that you can use in searches,

click on Subject Terms tab, then enter your keyword into the subject terms browsing search window.
or
take a stab at a search with whatever keywords you can think of. When you have a list of articles, click on "Subject" in the left-hand menu and then "Show More" to obtain a list of other terms you can use in your searches.


To locate articles from a specific journal,

select "SO Journal Name" (SO for source) from drop-down menu.

To request an article interlibrary loan,

click on the FindText button

that appears in the list of articles under articles that are not available full text wirthin Academic Search Premier This will take you to the FindText @ SMC screen. Click on "Request This Article from Interlibrary Loan" and fill in your contact information.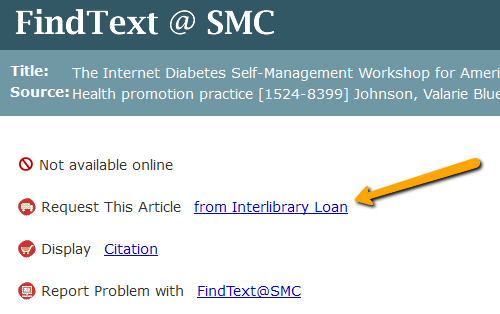 To put articles into your folder in order to email them to yourself,
then
and


To create a MyEBSCO account so that articles put in your folder remain there after you sign out,

create a MyEBSCO account and log in each time you begin searching CINAHL.
When you are logged into MyEBSCO a yellow ribbon will appear in the EBSCOhost logo.


To view a machine created APA citation for the source (careful! you will need to proof read these citations!),

click on the title of the article, then click on "Cite" in the right-hand menu.